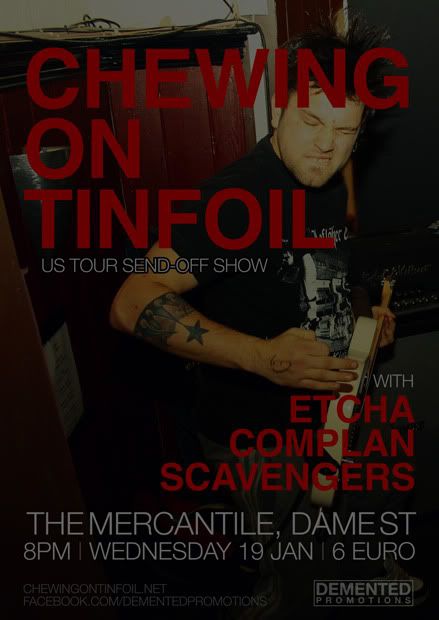 Dark posters aside this is happening TONIGHT.Go to this.What else are you going to be doing on a wednesday night?
This midweek activity is starting a crucial couple of days coming up for me.
Friday after work will see me moshing with impunity to
Frustration
,
Backtrack
AND
Terror
in Fibbers.Its twenty bills but that is a sound investment as those bands are ill as fuck.The others playing,im not too sure.Details
here
.
It will also see issue 1.5 of the TTTDH zine go out.its free and features an interview with mr.D.Balfe what sings in
The Blind
ahead of their record release show on the 28th of this month.
After Terror im off to see the Terror show in London with some crucial dudes.Then its seeing
Supertouch
in London with
Tremors
and shouting
"STEPHEN!"
at their drummer Jake(still loving
Adam and Joe
).Then its Wales bound to see Supertouch again in Newport with the mighty Wardogs and
THE Loose Nut
.Dublin city represent.
If you are at any of these shows say hi.
I have only been listening to podcasts this week.Adam and Joe are just too good.Also im in
love
.
I also still miss the
bish