i haven't updated this in fucking ages so expect a block of posts in the next 24 hours.
i recently had the privilege to see irish hardcore in full effect at Life And Death fest.It was an incredible three days and i got to hang with some good friends and that is the most important thing.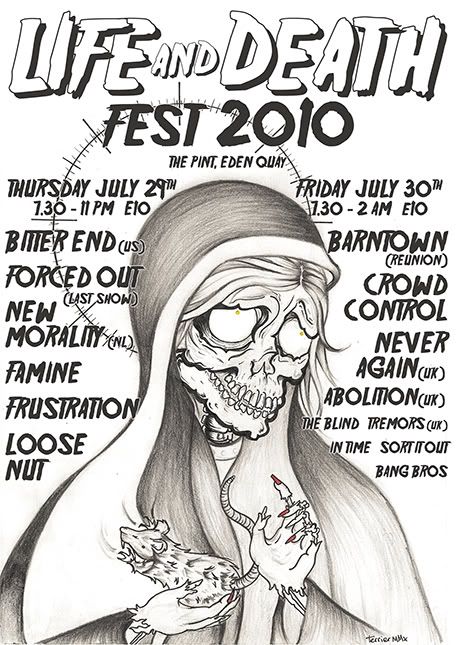 Thats about as solid a lineup as i could want from a local show and im stoked that a shitload of people came out for it.Some of the best sets i've seen Irish bands play went down on these two days.Most noteably
Crowd Control
.There were a shit tonne of people watching them and actually diving off stuff and getting into it.I probably sustained most of my injuries during that particular set.Also In Time played what i considered to be our best show at this.We covered 'Age' like.That was what we wanted to do since we started.I don't even care that no one sang along.
Well done to Robbie,Cruise and Iano for making this happen.
Lee had the awesome notion of having a Life After Death show in his house on the saturday.Having been at the other shows hes held there(including the first Forging Friendships show) i knew it was going to rule.
The line up was:
Find A Way
(reunion-ish)
Famine
,who played a load of FF songs
Tremors
Frustration
Starters
Bang Bros
It was a lot of fun to have that many people packed into Lee's kitchen.
After very little sleep i had to get my ass to the airport to head to the UK to see two
Right Idea
shows and hang with some good friends over there.Thats going to be covered in an entry tomorrow.Lucky you right?
For all the awesome shit that was happening that weekend it was a bit of a bummer cause a few people were leaving and thats never good.Sean from
Find A Way
was leaving to do a year in Japan,Zach was leaving for Uni in the Uk the worst vacancy will actually be the most permanent cause my boy Robbedge is moving over to the UK for a better job and to move in with his succubus of a girlfriend.Ill miss you dude,big style.no homo.
myself and Robert broing down at 1400ft above sea level.happy birthday bro.